True Blood Quinn Biography
Arthur Edward "Ed" Quinn (born February 26, 1968) is an American model and actor who has appeared in several film and TV roles, including Eureka, Starship Troopers 2, Young Americans and True Blood.
Quinn was born in Berkeley, California, where he attended St. Mary's College High School and went on to earn a bachelor's degree in history from the University of California, Berkeley in 1991. After graduating, he worked as a model in Paris, Barcelona, and Milan, landing parts in more than 35 international television commercials. When he returned to the United States, Quinn landed the starring role of Finn in The WB summer series Young Americans. From 2006 through 2008, he played Nathan Stark in the Syfy Channel series Eureka, reprising this role once during 2010.
He has three siblings Mary, Lizzy, and Joseph. Ed Quinn's favorite poet is Constantine P. Cavafy.
Before acting, music was Quinn's main pursuit. He studied with Joe Satriani and played in the Los Angeles-based bands Mad Theory and Scattergood, which led to a recording contract. He handled lead/rhythm guitar and vocals for the band ScatterGood, which has taken a hiatus. Ed Quinn recently did his first solo demo CD, entitled Quinn, with three songs produced by his friend Chris Lloyd: "Because of You", "Cause I Do" and "We Had It Made".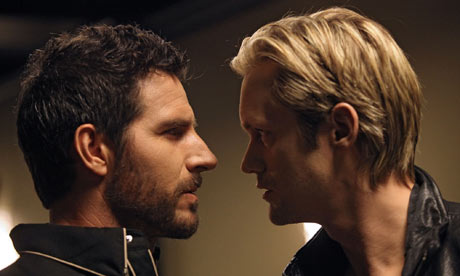 Sookie And Quinn (True Blood)
Sookie & Quinn: The Southern Vampire Novels